The Birth of an International Nuclear Fuel Bank?
In a speech on 5 April 2009 in Prague, Czech Republic, US President Barack Obama said that his Administration will: negotiate a new strategic arms reduction treaty with Russia this year; immediately and aggressively pursue U.S. ratification of the Comprehensive Test Ban Treaty; seek a new treaty that verifiably ends the production of fissile materials intended for use in nuclear weapons; and seek to build ?a new framework for civil nuclear cooperation, including an international fuel bank, so that countries can access peaceful power without increasing the risks of proliferation? (1).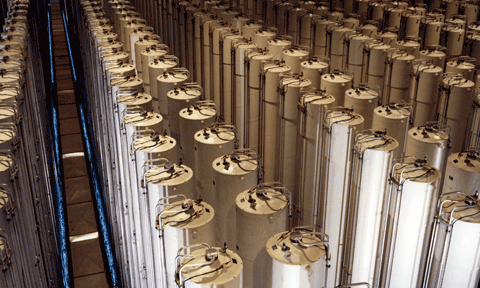 The idea of a
nuclear fuel bank under international safeguards is not new; it has been mooted on and off for more than thirty years. A nuclear fuel
bank
administered by the International Atomic Energy Agency (IAEA)
would, it is argued, assure a back-up supply of fuel for nuclear-power reactors on a non-discriminatory, non-political basis, thereby reducing the need for countries to develop their own uranium-enrichment and plutonium-reprocessing technologies (2).
Uranium-enrichment and plutonium-reprocessing are the two most sensitive technologies insofar as nuclear-weapon proliferation is concerned.


The IAEA has been recommending for some time that a nuclear fuel bank should be set up in a way that would not disrupt the existing commercial market in nuclear fuels (3). IAEA Director General Mohamed El Baradei explains, "I want to make sure that every country that is a bona fide user of nuclear energy, and that is fulfilling its non-proliferation obligations, is getting fuel. It is not asking any State to give up its rights under the NPT (Non-Proliferation Treaty). The importance of this step is that, by providing reliable access to fuel at competitive market prices, we remove the need for countries to develop indigenous fuel cycle capabilities. In so doing, we could go a long way towards addressing current concerns about the dissemination of sensitive fuel cycle technologies" (4).
The two most sensitive technologies, insofar as nuclear-weapon proliferation is concerned, are uranium-enrichment and plutonium-reprocessing.


Both America and Russia have stated that they are willing to make nuclear material available for a fuel bank administered by the IAEA. In the words of Tariq Rauf, Head of the IAEA's Verification and Security Policy Coordination Section's Office of External Relations and Policy Coordination, the setting up of a nuclear fuel bank under international safeguards "is an either/or situation, if we don't make it work, then we must prepare to live in a world where dozens of countries have the capability and key ingredients to make nuclear weapons." (5)


Any proposal to reduce the threats associated with the increase in the use of nuclear power is inevitably likely to have serious drawbacks. It is likely to be regarded by many non-nuclear-weapon countries to be discriminatory and, therefore, unacceptable. Some countries, such as Iran, insist that they want to acquire and operate all the elements of the nuclear fuel cycle themselves, as they have, under the NPT, the legal right to do.


The support of Barack Obama for a nuclear fuel bank closely follows the announcement that his Administration will cancel the US domestic component of the Global Nuclear Energy Partnership (GNEP), an initiative of the Bush Administration. The cancellation came as a surprise. The US Department of Energy (DoE) deputy press secretary Jen Stutsman stated, in a statement on 15 April 2009: "The long-term fuel cycle research and development program will continue but not the near-term deployment of recycling facilities or fast reactors". The GNEP was originally announced on 6 February 2006 by Samuel Bodman, the head of DoE in the Bush Administration (6).


But the issue of GNEP is not yet over because the Obama Administration has cancelled the Yucca Mountain project. Yucca Mountain,
in Nevada, USA, was the proposed site for the
only permanent geologic repository for America's highly radioactive nuclear waste. The cancellation of Yucca has
reenergized the debate about the need for the reprocessing of the spent nuclear fuel when it is removed from nuclear-power reactors, to remove the plutonium from the spent fuel. The US Congress has been very generous with funding for research and development in reprocessing technology and this funding looks set to continue.


The advocates of reprocessing argue that it makes considerably easier the management of
radioactive waste produced by nuclear-power reactors. But o
ther experts argue that this is not true. For example,
Steve Fetter,
Dean of the School of Public Policy
of the University of Mar
yland, and Frank von Hippel,
Professor of Public and International Affairs at Princeton University,
point out that reprocessing would not remove the need for a permanent repository for the disposal of high-level radioactive waste (an argument often used in favour of reprocessing) and would, in fact, be very much more expensive (7).


There is no doubt that the debate about plutonium reprocessing is important for global security. The on-going increase in the use of nuclear power reactors for electricity generation, the nuclear renaissance, will lead to the spread of plutonium to many countries. This will happen as mixed-oxide (MOX) fuel, a mixture of uranium and plutonium dioxides, is increasingly used to fuel nuclear-power reactors (instead of uranium dioxide, the current nuclear fuel) and as plutonium is used to fuel future reactor types, particularly fast breeder reactors (FBRs).


The plutonium can be separated from uranium in MOX fuel using standard chemistry and then used by countries to fabricate nuclear weapons and by terrorists to make nuclear explosives. This is an obvious threat to global security. In the words of President Obama: "
we must ensure that terrorists never acquire a nuclear weapon. This is the most immediate and extreme threat to global security. One terrorist with one nuclear weapon could unleash massive destruction" (1).


The proposal for an international
nuclear fuel bank has the same aim as GNEP had -
to encourage the global expansion of nuclear energy while limiting the spread of technologies for the enrichment of uranium and for the reprocessing of spent nuclear-power reactor fuel to remove the plutonium from it.
Some suppliers of uranium, not very surprisingly, opposed the GNEP. For example,
South African Minerals and Energy Minister Buyelwa Sonjica stated that "Exporting uranium only to get it back refined, instead of enriching it in South Africa, would be 'in conflict with our national policy.'" These uranium suppliers will also object to an international
nuclear fuel bank.


On 16 February 2006, the America, France and Japan signed an "arrangement" to conduct research and development into sodium-cooled FBRs in support of the GNEP. GNEP had more than 20 partners and the list was expected to grow. But, now that the US will no longer be in the lead, the future of existing international GNEP initiatives is very unclear.


The
reprocessing of spent reactor fuel elements in the USA, if it ever happens, will reverse over 30 years of American government policy. In 1977, President Jimmy Carter (who was a nuclear engineer) banned reprocessing in the US because of concerns that the plutonium separated from the civil reactor fuel elements would be used to fabricate nuclear weapons.


These concerns have since intensified. Dr.
Mohamed El Baradei estimates that there will "pretty soon" be nine nuclear-weapon states and "probably another 10 or 20 virtual weapon states", which could acquire nuclear weapons very quickly if they took the political decision to do so (8).
Matthew Bunn of Harvard University has stated, "A near-term decision to reprocess U.S. commercial spent nuclear fuel would be a serious mistake, with costs and risks far outweighing its potential benefits" (9). He also stated that reprocessing would undermine current U.S. efforts to prevent nuclear proliferation. But,
if significant numbers of FBRs are used in the future,
r
eprocessing will be necessary to obtain fuel for them.

In a March 2006 report by the Natural Resources Defense Council, Peddling Plutonium,

Thomas Cochran and Christopher Paine, two experts on civil nuclear power, point out that

spent-fuel reprocessing and plutonium-fuelled fast reactors are "well-proven commercial disasters" and that "

fast reactors proved to be uneconomical, highly unreliable, and prone to fires due to leaking liquid sodium coolant, which burns spontaneously when it comes in contact with air or water".
Moreover, they say: "Current international safeguards cannot monitor and measure the flow of nuclear material in reprocessing and enrichment plants with the continuity and accuracy required to promptly detect diversion from peaceful uses" to military ones (10).
The demise of the GNEP will not be mourned by those concerned about n0uclear-weapon proliferation and/or nuclear terrorism. But the proposal for an international
nuclear fuel bank by no means fully addresses their concerns.
Bibliography
2.

International Atomic Energy Agency, International Fuel Bank,

www.iaea.org/NewsCenter/PressReleases/2006/prn200615.html
3. Nuclear Engineering International,
IAEA nuclear fuel bank moves step closer, says ElBaradei
, Tuesday, 3 March 2009.
www.neimagazine.com/story.asp?storyCode=2052295
4. Mohamed ElBaradei, Multilateral Approaches to the Nuclear Fuel Cycle,
International Nuclear Fuel Cycle Conference, 17 March 2009.
www.ukinaustria.fco.gov.uk/resources/en/pdf/elbaradei-speech-march-09
5.
International Atomic Energy Agency (IAEA), IAEA Seeks Guarantees of Nuclear Fuel, Global "(Nuclear) Fuel Bank" Could Reduce Proliferation Dangers, Help Energy-Poor, IAEA Press Release 2006/15, 2006.
www.iaea.org/NewsCenter/PressReleases/2006/prn200615.html
6. Global Nuclear Energy Partnership,
www.world-nuclear.org/info/inf117_
gnep
.html
7. Steve Fetter and Frank N. von Hippel,
Is U.S. Reprocessing Worth the Risk?,
Arms Control Today

, September 2005
, pp. 6-12.
www.legacy.
armscontrol
.org/act/2005_09/
Fetter
-
VonHippel
.asp
8. Julian Borger, Mohamed ElBaradei warns of new nuclear age, The Guardian, 14 May 2009.

www.guardian.co.uk/profile/julianborger
9. Matthew Bunn, Risks of GNEP's Focus on Near-Term Reprocessing, Testimony for the Committee on Energy and Natural Resources, US Senate, 14 November 2007.
www.energy.senate.gov/public/_files/
Bunn
Testimony111407.doc
10.Thomas Cochran and Christopher Paine,
Peddling Plutonium; Nuclear Energy Plan would make the World More Dangerous, R
eport by the Natural Resources Defense Council, Washington, D.C., March 2006.
www.nrdc.org