Semiconductor Polishing: New Spherical Nanoparticle Abrasive Could Advance Chemical-Mechanical Planarization in Integrated Circuit Production
Semiconductor polishing ? known technically as chemical-mechanical planarization (CMP) ? has become more critical as feature sizes on integrated circuits (ICs) have become smaller. Surfaces must now be flat to within sub-nanometer tolerances and free of defects. And next-generation devices will have to meet even tougher standards. Nanoparticles made of cerium oxide (CeO2) ? also known as ceria ? are now used to polish semiconductor wafers between the more than two-dozen processing steps needed to make a modern integrated circuit. But because of irregular crystalline shapes in the existing material, that polishing can scratch wafer surfaces and significantly reduce the yield of IC devices. To address that problem, a research team led by Dr. Xiangdong Feng from Ferro and Prof. Zhong Lin Wang from Georgia Tech took advantage of differential melting temperatures between two oxide materials to create a new type of spherical cerium oxide nanoparticles that roll like a ball bearing [1].

One of the methods for the production of nanometer-sized cerium oxide is through a combustion-based process in which chemical precursors dissolved in alcohol are burned at temperatures of up to 2,500 degrees Celsius. The resulting nanoparticles are made up of single crystals with polyhedral shapes and irregular edges. To make a spherical particle, they modify the surface energy to make the high-energy facets favorable because a perfectly single-crystal spherical ceramic particle has higher surface energy. Because the melting point of the TiO2 and CeO2 differs by some 700 degrees, the cerium oxide crystallizes before the titanium oxide as the nanoparticles cool after formation. That allows the titanium oxide to remain in a liquid state as the particles form, creating a shell one to two nanometers thick around the cerium oxide. Creation of the shell minimizes the surface energy of the cerium oxide and allows formation of spherical nanoparticles without facets. Comparison of polishing done by the original polyhedral ceria and the new spherical titania-doped ceria shows important differences. The new particles reduce the number of polishing defects in silicon wafers by 80 percent. The new methodology demonstrated can be applied to other systems.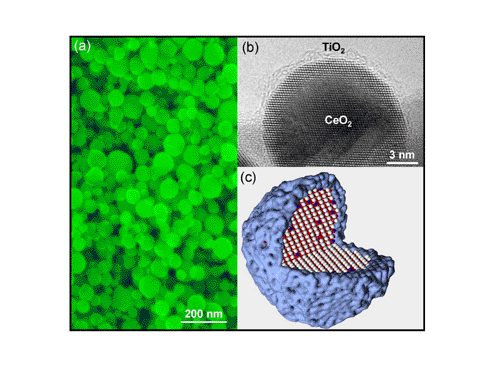 Figure: (a) Scanning electron microscopy image of single crystal nanospheres of Ti dopped CeO2 nanoparticles. (b) Transmission electron microscopy image of a single crystal CeO2 nanosphere enclosed by a thin shell of amorphous TiO2. (c) Molecular dynamic simulated structure of Ti dopped CeO2 nanosphere.

[1] Science 312 (2006) 1504