Smart Nano Composite Inhibits Tooth Decay
When tooth decay recurs after the initial restoration, it is termed secondary (or ?recurrent?) decay. It occurs mostly at where the filling material binds to the tooth. Secondary decay is a serious problem and is the most frequent reason for replacement of existing restorations. Replacement dentistry accounts for 70% of all operative work and costs $5 billion a year in the U.S. alone.

Resin composites are tooth-colored filling materials that are composed of filler particles in a resin. The composite can be polymerized (or hardened) to form a solid restoration in the tooth. Most composite filling materials do not fight tooth decay. To combat tooth decay, special composites are developed that release calcium, phosphate and fluoride ions. However, these composites are too weak mechanically for use in load-bearing applications to survive the chewing stresses.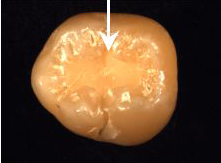 Figure: Nanocomposite Filling. An example of a calcium phosphate nanocomposite filling in a tooth. The nanocomposite can "smartly" release decay-fighting agents to buffer against acids produced by bacteria, and rebuild the lost tooth minerals by releasing ions into the mineral-deficient area of the tooth (Hockin Xu et al., ADA, NIST, 2007).





Dr. Hockin Xu and his group at the American Dental Association's Paffenbarger Research Center, a joint research program at the National Institute of Standards and Technology (NIST), have developed nanotechnology to combat tooth decay. In the April, 2007, issue of The Journal of Dental Research, they report a new nanoscale composite filling material. They synthesize novel scale nanoparticles of tooth decay-fighting compounds, such as dicalcium phosphate, to provide a source for calcium, phosphate and fluoride ions. The particle sizes of these compounds are about 25 to 100 nanometers, or ten to forty times smaller than the conventional 1-micrometer particles. Because these nanoscale particles have a much higher surface area, they are much more effective at releasing ions. This means that much less of the material is required to produce the same effect. As a result, there is room in the resin for reinforcing particles. One type of reinforcing fillers are small fibers fused at high temperature with nanoscale silica particles, a technology also developed by Dr. Xu's group at the ADA and NIST, to strengthen the composite filling material. The composite containing these nanoscale particles can release ions to build up the mineral in the already mineral-deficient tooth structure, buffer against the decay-causing acid produced by bacteria to prevent future decay, and support the chewing forces in the mouth. Another important feature is that they can is that they can "smartly" increase the release of ions in the presence of an acid, when such a release is most needed to prevent tooth decay. Hence they have the promise to become the first generation of load-bearing, decay inhibiting dental nano composites.

Reference:

Xu HHK, et al. Effect of calcium phosphate nanoparticles on Ca-PO4 composites. 2007. Journal of Dental Research; 86: 378-383.