Key words :
,
,
,
,
,
,
,
Habitat Protection for the "Big Picture" of Environment Conservation
Amphibians across the globe are facing a mass extinction event, believed by many to be worse than any other witnessed by humans. Nearly a third of all amphibian species are threatened with extinction, and at least half are declining in number. We know that habitat loss, pollution, introduced species and over-exploitation are largely to blame, however, even rigorous habitat protection and management has not curbed the decline of some species.

So why are populations declining at such an unprecedented rate? Firstly, amphibians use their very thin skin for breathing and hydration, making them very vulnerable to pollution. In fact, amphibians are often described as good "biological indicators" because their health is often a good indication of the health of the environment. Secondly, a fungus that is deadly to many species of amphibian has had a major impact on populations, leading to extinction in some cases. This Chytrid fungus was discovered in Australia in the 1990's and has since become more prominent across the World. It is not clear whether amphibians are becoming more susceptible to infection by the fungus, or whether its range has spread. Some scientists believe the global climate change has increased the vulnerability of amphibians to Chytrid fungus because it thrives in moist and warm conditions.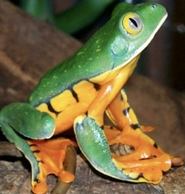 Habitat protection and restoration are vital to amphibian conservation. Unfortunately, setting up suitable projects can take a lot of time and money, so an alternative solution must be implemented in the meantime. Captive breeding, or ex situ, programmes have been put in place for a small number of endangered species to act as insurance in case wild populations become extinct. Unfortunately, our experience in amphibian husbandry and breeding is relatively limited, and little research has been carried out to determine best practices. In addition, different species live in a wide variety of environments in the wild, and will therefore have a wide range of requirements in zoos and vivaria.

A PhD project has been set up by Chester Zoo, The University of Manchester and Manchester Museum. The aim is to increase our understanding of the diet and environmental conditions required by ex situ tropical leaf frogs. The species under investigation are the Splendid Leaf Frog (Cruziohyla calcarifer) and the Red Eye Tree Frog (Agalychnis callidryas), which are found in the tropical rainforests of Central and South America. Neither of these species is immediately threatened with extinction, but the information gathered from this research will be used to improve the conditions for other ex situ populations.

The project will focus on lighting and diet. We know that amphibians require UV light to produce vitamin D, but it is unclear how regular or how intense exposure to UV should be in captivity. Ozone depletion has led to an increase in levels of UVB radiation (the wavelengths of light that cause sunburn) in some parts of the World, and studies have shown that this may cause death and abnormalities in some species. The research will hopefully find a suitable lighting regime for 'safety net' frogs.

One of the most striking features of many amphibians is their bright colouration, however, this feature is often compromised in captivity. For example, wild Splendid Leaf Frogs have bright orange and black stripes down their sides and on the insides of their legs, but the orange colouration is duller and the black stripes are less defined in captive individuals. These markings are extremely important as they are thought to be used in mating displays, and are an indication of the overall health of the animal. One reason for dull colouration may be that the frogs are not obtaining enough carotenoids in their diet. Carotenoids are important in vision and the immune system, and are responsible for red, orange and yellow colouration across the animal kingdom. Animals are not capable of making their own carotenoids and can only obtain them through the food they eat. The second part of the PhD project will therefore look at how an increase in the amounts of carotenoids in the diet affects the health and fertility of splendid leaf frogs and red eye tree frogs. The researchers will also analyse the diet of wild individuals so that captive diets can be tailored appropriately.

This project is a positive step in amphibian conservation. It will provide information that will better equip us to breed high quality animals that may be released into the wild. If animals are to be released, suitable habitats must be available. It is therefore imperative that efforts are made to protect habitats and slow climate change if amphibians are to be given a chance of survival.

Key words :
,
,
,
,
,
,
,