A liquid solution to cut the price for fuel cells
A UK company called ACAL Energy has managed to cut the amount of platinum used in fuel cells by 80% and the price for fuel cells by 40%. Dr Andrew Creeth, the inventor of the FlowCath? technology, answers Scitizen's questions.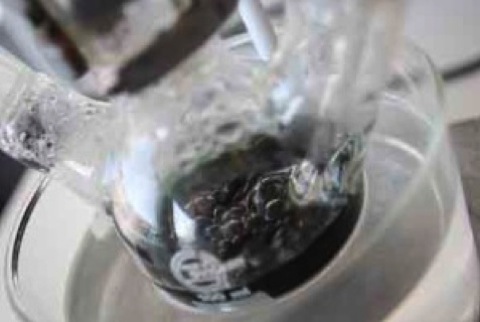 Acal Energy

What is new about Flowcath® fuel cell compared to other platinum free fuel cells?



In platinum PEM-fuel cell cathodes and other non-platinum cathodes, an air electrode is used. That is, air is passed over a complex electrode layer which contains the catalyst; oxygen is reduced, and product water is formed.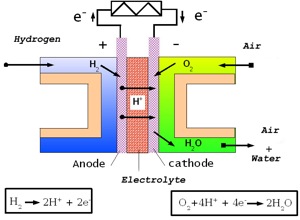 Scheme of a conventional fuel cell

The ACAL system uses a liquid-based system. A catalyst and mediator are dissolved in a water-based solution. This passes through the cathode region of the fuel cell and where the mediator is reduced at a simple electrode. It then is circulated to a regenerator, where oxygen reacts with the catalyst to oxidize the mediator.

What are the advantages?

There are :

- cost reduction by replacing the greater part of the platinum of the cell (up to 80% is located in the cathode of a standard fuel cell).

- peroxide is not formed at the cathode, meaning that the major mechanisms for loss of durability (a major challenge for PEM fuel cells) do not occur.

- the balance of plant is simplified – no humidification is required at for the membrane (a need for the membrane polymer). Also the liquid acts as an inherent coolant, current systems pass liquid or air through complex channels in the fuel cell stack.

Is there a working prototype?

We are in the process of completing a 1 kW unit prototype. The hydrogen-fuelled 'short-stack' unit has already achieved a continuous power output of over 600W, and will deliver over 1.5kW with the ' full stack ' .

In the future, can you be competitive in the fuel cell vehicle market?

The plans for product development are focussed on delivering a module that will include specially designed stacks and regeneration systems that are ready to integrate into the manufacturer's system products for stationary power applications from 1kW to 10kW in size. Longer term, modules will be available for larger stationary power applications, micro CHP and transport.

To what extent should it help to cut the price for fuel cells ?

We calculate that the combination of lower platinum levels and simpler balance of plant will lead to a reduction in cost of up to 40% of fuel cell units. This should substantially aid the process of commercialisation.

Interview by Clementine Fullias

ACAL's co-founder and chief technology Andrew Creeth stems from a sound science base, with depth of knowledge, 11 publications, and has led teams which delivered the technology for market launches. He is the inventor of the ACAL Energy technology.