Charlie Hall's Balloon Graph
Energy researcher Charlie Hall's balloon graph challenges the notion that alternative energy sources will provide a smooth transition to a post-fossil fuel society. Scale and energy return remain huge obstacles.
Charlie Hall
is one the best-known energy researchers you've never heard of. That's because he puts his effort into understanding whole energy systems such as human civilization rather than perfecting headline-grabbing energy panaceas such as corn ethanol. From the early 1980s onward Hall and his colleagues--some of them former students--have been warning that a society hooked on fossil fuels would find itself up against limits not easily breached--probably sooner rather than later.
With the current boom in biofuels, wind, and solar, and even a revival in nuclear power, many people believe that a smooth transition to a post-fossil fuel economy is already a foregone conclusion. But a careful look at Charlie Hall's balloon graph tells a different and much more disconcerting story (1). (To view a larger version of the graph, click
here
or on the graph itself.)
First, let's look at the components of the chart. On the vertical axis we have
energy return on investment (EROI)
expressed as the ratio of energy output versus energy input for each energy source. (Hall, an ecologist by training, appears to have coined the term by adapting "yield per effort" concepts from fisheries.) It is not always obvious to modern industrial people that it takes energy to get energy. The more energy we spend on finding, extracting, refining, and transporting energy resources, the less we have for all the other activities of society. The horizontal axis of the graph represents quads or more precisely, quadrillion
BTUs (British Thermal Units).
The graph depicts energy use in the United States. But the principles it demonstrates apply to the world as a whole.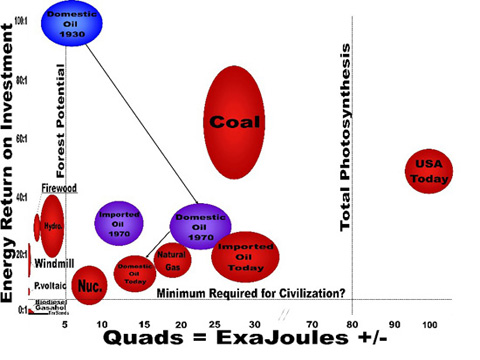 The various colors put focus on the annual production totals and energy return of oil at different times. The sizes for all the balloons represent a very rough guide to the uncertainties in calculating EROI ranges. (As we shall see, even with these uncertainties there is a very large discernible gap between what we currently get from fossil fuels and what we can expect to get from alternatives.)
Oil, which makes up the largest percentage of U.S. energy consumption today (
40%
), has shown a substantial increase in its total output even as its EROI has fallen. To see this on the graph look at the blue balloon labeled "Domestic Oil 1930," the purple balloons labeled "Imported Oil 1970" and "Domestic Oil 1970" and the red balloons labeled "Domestic Oil Today" and "Imported Oil Today." That same move to a lower EROI is also being seen for natural gas and coal though the balloon graph does not depict these trends.
Everyone knows that at some point fossil fuel supplies, which are finite, will begin to decline. To replace them we currently have biofuels such as biodiesel; other renewables such as wind, photovoltaic, and hydroelectric; and nuclear power. Oil from tar sands is also shown in the lower left-hand corner, but you have to look hard. And, that's just the point. You have to look pretty hard to see these alternatives on the graph. There are two reasons for this. First, some of these new sources are not very far along in their deployment. As they are more widely deployed, they will supply more total power and move to the right on the graph. Second, the EROI for biofuels such as biodiesel and for unconventional oil such as that extracted from tar sands is extremely low. Given current technology, these alternatives are not likely to move upward very much on the graph anytime soon.
Hall believes we have two problems illustrated by his balloon chart. First, in order for these alternative sources to move rightward on the graph--that is, produce much larger quantities of energy for society--they will have to be deployed on a vast scale which few people contemplate or understand. Two examples come to mind. The worldwide installed capacity of solar photovoltaic cells is 10.9 gigawatts. With the
total worldwide installed electrical generating base at 3,872 gigawatts
, it would take more than 2,000 years at the
current rate of installation (1.74 gigawatts/year)
to reach today's capacity. And that's without even considering future growth in electricity demand. If we include
the installed base of wind (74.3 gigawatts) and the current rate of wind installations (14.9 gigawatts/year)
, we can bring the figure all the way down to about 230 years, again without considering growth in demand. Of course, the rates of installation will grow, and there are other renewable and nonrenewable energy sources available. But the challenge of scale remains huge.
When it comes to biofuels, the scale problem gets no better. Biofuels researcher Tad Patzek uses corn ethanol as an example. To fuel the American vehicle fleet using corn ethanol:
[o]ne would have to grow corn on 1.8 billion acres, year-after-year, for decades. There are about 400 million acres of arable land now in cultivation in the U.S. Therefore, one would have to use the land area equal to 4.5 times the current arable land area....
If we want to continue living in the kind of energy-drenched civilization we now enjoy, we will have to move simultaneously rightward
and
upward on the balloon graph. Hall estimates that if society were to average less than a 5 to 1 ratio of EROI, anything resembling our modern civilization would probably not function. The balloon graph suggests a minimum EROI for the United States of around 40 to 1 for 100 quads of energy generated. Therefore, without major breakthroughs in the efficiency of alternative energy sources, no combination of those sources has the prospect of giving us both the high energy returns and the large total production we are accustomed to from our current energy sources.
(It's important to note that nearly all the good sites for hydro power in the world have already been taken. And, turning to firewood for fuel would simply result in the levelling of the world's remaining forests, leaving us with nothing for the future and destroying the habitability of the planet in the bargain. The upshot: Neither of these alternatives is going to move much to the right on the graph.)
Many are saying peak world oil production will soon be upon us with peak natural gas and coal following close behind. To live anything like we now live, we are going to have to see some astounding technical breakthroughs in alternative energy sources soon. And those breakthroughs will have to be followed by dramatic and costly efforts to deploy alternatives rapidly and ubiquitously. For now we appear to be on a course that will require drastic changes in the way we live.
Perhaps we will somehow muddle through. But when you look at Charlie Hall's balloon graph, it's easy to conclude that even muddling through might end up being a very unpleasant affair.
Notes:
(1) Hall, C.A.S., R. Powers and W. Schoenberg. (in press). Peak oil, EROI, investments and the economy in an uncertain future. Pp. xxx-xxx in Pimentel, David. (ed).
Renewable Energy Systems: Environmental and Energetic Issues
.