What's Really Wrong With Nuclear Power?
In terms of its achievable potential, financial and social cost, and even carbon dioxide emissions, nuclear power is not an optimal solution.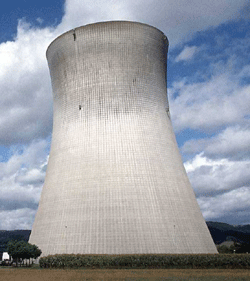 Everywhere one looks today, nuclear power seems to be resurging, portrayed as a safe and carbon-friendly source of electricity by its advocates. Writing in a Scitizen column, Jacques Foos writes "No More Nuclear Energy? A Lost Fight Before It Even Starts!" Daniel Gross states in Newsweek that "nuclear power plants are the obvious fix for global warming and U.S. oil dependence." Echoing such faith, the Economist proclaimed in 2005 that nuclear power plants are "the shape of things to come." The Nuclear Regulatory Commission here in the US has received notice of application for 28 new nuclear units.

Contrary to such optimism, however, nuclear power plants will not be able to reduce greenhouse gas emissions in any meaningful timeframe; their financial, environmental, and political costs are severe; and they are far from being a "carbon neutral" energy source.

Too Little, Too Late

First, in both the US and UK, if governments approved new nuclear units today, the earliest they would come online is 2015—and that is presuming everything would go as planned. Frank Barnaby and James Kemp estimate that by 2075, assuming that countries meet projections and would produce one-third of their electricity from nuclear sources, China would require around 530 Gigawatts (GW), India 600 GW, the US 146 GW, and Indonesia 125 GW.

Taking an average reactor size of 1,000 MW, this means 2,000 to 2,500 new nuclear reactors will be needed between now and then, or around three a month. This is completely infeasible, even if the social, political, and environmental concerns discussed below could be wished away. France, which currently generates 76 percent of its electricity from nuclear units, has the fastest record for deploying nuclear plants in history: 58 between 1977 and 1993, or an average of 3.4 reactors per year, not month.

Furthermore, even if just 700 new nuclear plants were constructed, they would require the additional construction of 11 to 22 large enrichment plants, 18 fuel fabrication plants, and 10 waste disposal sites the size of Yucca Mountain. This may not be just undesirable, but also technically impossible.

How Much, and For How Long?

Second, nuclear power plants pose insurmountable economic, environmental, and political challenges.

While the industry reports that new nuclear plants cost around $2,000 per installed kilowatt (or a total of $4 billion if the plant reached a capacity of 2 GW), the historical record suggests that costs will escalate. New nuclear power plants are extremely capital intensive and take years to build. The capital intensity of such projects means that they often cost $1-2 billion more than anticipated, as they are subject to greater interest rates, higher financing expenses, and changes in regulatory requirements during construction.

Moreover, because nuclear plants provide centralized power sited away from urban centers, they must rely on a vast and complex transmission network to distribute their power. Yet such a network loses between 6 and 12 percent of its transmitted electricity before it ever reaches a single home or business, due to the laws of thermodynamics. Nuclear plants also use around 5 to 7 percent of their own energy to contain and cool nuclear reactions.
In other words, getting electricity from a typical nuclear plant would be the equivalent of purchasing a dozen beers at a local grocery store only to lose between two and five bottles every time you transported them home, day after day.

Environmental costs abound as well. The reprocessing and enrichment of uranium and plutonium, needed for fuel, often necessitate fossil-fueled generators that emit significant amounts of carbon dioxide. At an earlier stage in the nuclear fuel cycle, the mining and milling of uranium and the operation of nuclear reactors also present grave dangers to the environment. Abandoned mines, for example, can pose radioactive risks for as long as 250,000 years after closure. Let's not forget that nuclear plants produce prodigious amounts of waste that remain dangerously radioactive for hundreds of thousands of years—longer than our civilization has practiced Catholicism, or, more important for some, cultivated agriculture.

From a political standpoint nuclear plants degrade energy security in three ways. First, they make countries more dependent on imported and interruptible fuels that have large price spikes. The cost of uranium, for instance, jumped from $7.25 per pound in 2001 to $47.25 per pound in 2006, and the Nuclear Energy Agency reports that fuel counts for 15 percent of the lifetime costs of a nuclear plant.

While nuclear power plants themselves can be relatively well-secured, guarding the transmission and distribution grid through which they distribute their power is difficult.
In Britain during the coal-miner strikes of 1976, a leader of the power engineers famously remarked that "the miners brought the country to its knees in 8 weeks, but we could do it in 8 minutes". This is because the infrastructure needed to distribute nuclear power is brittle, and subject to cascading power failures easily induced by severe weather and small animals, to say nothing of accidental or intentional human interference.

As if this wasn't enough, the safety record of nuclear plants worldwide is extremely questionable. More than 90 nuclear accidents, defined as incidents that either resulted in death or more than $50,000 of property damage, have occurred worldwide since the 1970s, according to data from the Union of Concerned Scientists and International Energy Agency. That's more than two incidents every year, including dozens this past decade.

About as Carbon Friendly as Natural Gas ...

Third and finally, nuclear power plants are not carbon neutral. The Oxford Research Group concludes that the nuclear fuel cycle is responsible for emitting 84 to 122 grams of carbon dioxide per every kWh, mostly from uranium mining, plant construction, and plant decommissioning. The report also notes that these emissions are around half of that as natural gas plants (so we are talking about some serious carbon).

In addition, the International Atomic Energy Agency notes that uranium is getting harder to mine, meaning that the carbon emissions related to nuclear will get worse as more uranium gets depleted, not better. This is because mining uranium ores of relatively low grades and greater depth is much more energy intensive. If world nuclear generating share remains what it is today, the Oxford Research Group concludes that by 2050 nuclear power would generate as much carbion dioxide per kWh as a comparable gas-fired power station.

In the end, the belief that nuclear power represents a clean and safe alternative to coal-, natural-gas fired, or renewable power generation is completely misguided. It exposes our country to dangerous and prolonged risks, legitimates transmission and distribution efficiency losses, commits policymakers to continued greenhouse gas emissions, and obscures better alternatives towards a truly sustainable energy portfolio.

References

Barnaby, Frank and James Kemp, Secure Energy? Civil Nuclear Power, Security, and Global Warming (Oxford: Oxford Research Group, March, 2007).

Echavarri, Lance E. "Is Nuclear Energy at a Turning Point?" Electricity Journal 20(9) (November, 2007), pp. 89-97.

International Atomic Energy Agency, Analysis of Uranium Supply to 2050 (Geneva: IAEA, 2001).

Keystone Center, The, Nuclear Power Joint Fact-Finding (July, 2007), available at http://www.keystone.org/spp/documents/FinalReport_NJFF6_12_2007(1).pdf.

Sovacool, Benjamin K. "The High Costs of Going Nuclear for Indonesia," The Jakarta Post, September 13, 2007, p. 7.