"The Debate on the Link Between Human Actions and Climate Change Should Really Be Over"
An official report released Friday 2 ?provides us with much stronger evidence and a large level of confidence on the human influence on climate change". The report involved 1200 scientists ? authors and reviewers- around the world. Rajendra Pachauri, chief of the Intergovernmental Panel on Climate Change (IPCC), presented the results of this report at the Paris Conference for Global Ecological Governance (2-3 February). Scitizen was there. Listen to the full speech.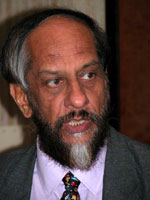 "The atmospheric concentration of CO2 in 2005 exceeded by far the natural range over the last 650 000 years. One can see this against the background of the fact that the Framework Convention on Climate Change came into existence in 1992 (...). Despite that fact, CO2 radiative forcing increased from 20% from 1995 to 2005, the largest change for any decade in at least the last 200 years."